UnitedScrip brings you a program that will totally change your concept of fundraising and enable your organization to raise thousands of dollars without costing your members and supporters one extra dollar. Our program utilizes scrip (a Latin term that means anything used instead of money, and in our case Scrip is Gift Cards). We currently partner with groups whose profits exceed thousands of dollars annually .
UnitedScrip is a unique program that maximizes your members' collective purchasing power and turns those normal spending dollars into profit for your organization. Literally thousands of dollars are spent monthly by our families for their normal purchases. Online or on paper, we can help you establish a program that is designed to meet the needs of your group and your unique situation. What is UnitedScrip...we are more than just another Scrip Company, we are your Scrip Partner!
Our goal is to turn those dollars into profit for your organization.
Our vision is to make a difference for your
club, group, school, or organization.
Making a Difference for the next Generation is
'Why we do what we do!
Join with us and let us help you impact your organization - TODAY!
Ready to Begin?
Click here!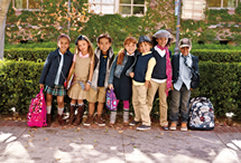 The Children's Place...for all your back to school needs!